It is hard to believe that in a few weeks it will be 6 months that Zeke has been gone. We were very sad to see him go. He had lived a good long life and would have been 16 had he lived another 3 months.
I had taken my son on vacation to Washington DC at the end of August. My husband called me on a Sunday morning and said that
Zeke had some sort of seizures in the night and was pretty out of it and that he was trying to find a vet. I knew this was the end. This would be Zekes third occurence of seizures in about 6 months time. The first two he seemed to recover from pretty quickly. But this time the vet that my husband took him to thought he was suffering and recommended that he be euthanized.
It was very sad, fortunately it happened on the last day of my vacation and not at the beginning.
I just felt terrible that I was not there for Zeke in his final hours.
We missed Zeke alot and our house was so gloomy after he passed. A few days later we
adopted another puggle (cross of a pug and beagle) named Bitsy from a local shelter
Friends of Michigan Animal Rescue
in Belleville, MI. Bitsy is a very sweet, energetic almost 2 year old puppy and she shares alot of personality traits that Zeke had.
We had met Bitsy a few weeks earlier at a pet event at the local Tractor Supply store. I had taken Zeke with me to get his nails trimmed.
He and Bitsy touched noses so I feel like he kind of approved of her. After he passed I contacted the shelter to see if she was still available and she was.
I had thought we would wait a while after Zekes passing but I knew that Bitsy being such a nice young puppy would be gone if we waited too long. She was such a jumping, crazy puppy and it was hard to be sad with her jumping up and licking your face all the time. It was definitely the right thing to do. Here is photo of Bitsy on a Puggle Christmas Card I designed in my Zazzle store.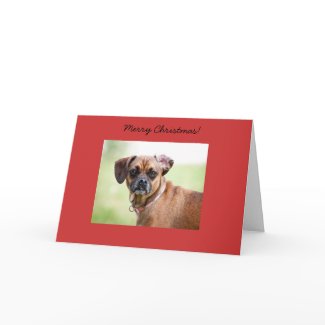 Puggle Merry Christmas Card
by
PuggleStore
View other
Puggle Cards
The Friends shelter has a diabetic dog named Starla who is blind from cataracts. They are trying to raise money so she can have surgery t
o remove her cataracts and restore her eyesight. I know from treating Zekes dog diabetes for 5 years and paying for his cataract surgery and follow up care how expensive it all is so I plan to donate towards her care. She looks very sweet, you can see here here
Channel 4 Pet Of The Week Starla
.
Do you have a diabetic dog? If so please leave me a comment and tell me about him or her.